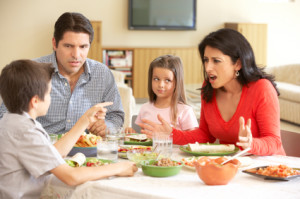 "Mommy I am frustrated," my two year old toddler growled at me in her highchair while spitting her food out.  I looked at my husband and sarcastically said, "I wonder where she gets that from?"  My mini-me had just mimicked what I expressed five minutes ago.  Not ten minutes later there was yelling about a sippy cup of milk deliberately spilled on the couch.  It had been one of those days.
As parents we try so hard to teach our children how to be kind, speak softly, use nice touches and respect boundaries but every so often they yell, push, pout, throw things and give you an attitude when things don't go their way.  This is tolerable if you understand that they may be tired, hungry, or just acting like a toddler.  The guilt comes when you realize they are mimicking you and that is the last thing you want to teach them.
Anger is a normal human emotion.  Its function is to let us know when we have been wronged, motivates us towards action or helps us see a need for change.  Anger functions similarly in families.  If your husband orders NFL Sunday ticket instead of using the money to pay the phone bill it is OK for you to get angry.  Where you have a choice is in how you express it, if you let anger control you, and how you let it influence your children.  Here are some helpful steps for handling anger in your family:
1.  Asses your emotions.   If you have had a stressful day at work or your child had a poor night of sleep, his tolerance level may be lowered.  Check yourself before you hit the door.  Know what you are feeling first and why.  Ask yourself why your child might be acting this way.
2.  Ask yourself 3 questions: Is this the right time for me to act this way? Will it build up or tear down?  Will my family respond to me out of fear or love?  I Corinthians 10:23 says, "All things are lawful but not all things build up."  Teach your child to ask themselves the same questions as they get older.
3.  Take a time out.  If you feel yourself getting angry remove yourself from the situation or your family before you blow your top.  Never discipline out of anger.  One of my kids' favorite shows is Daniel Tiger's Neighborhood on PBS.  One of the episodes talked about anger and says, "When you're really mad and you wanna roar, take a deep breath and count to 4."  James 1:19 also counsels us to be quick to hear, slow to speak and slow to anger.
4.  Take responsibility instead of blaming.  Instead of saying to our spouse, "You made me do this," take responsibility for what you did or said that might have contributed to conflict.  Have a no tolerance policy for reacting physically because of your anger.
5.  Ask for forgiveness.  It is important to confess our wrong to our spouse and well as our children when we have reacted inappropriately.  Confession allows for reconciliation and gives us a chance to teach our kids that we have lessons to learn just as they do.
Remember you may have a right to feel angry but you do not have a right to take that anger out on yourself (self-hatred) or others.  Let your anger spur you to action.  To act in a way that shows love, tolerance and understanding to your family.