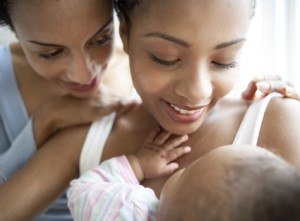 My kids are 2 & 3 1/2 and I find myself only having recently come out from my "Mommy fog."  You know the one which you are in if you decided to stay home with your babies before going back to work.  I can now actually leave them alone with the TV to take a hot shower, think, pray and get inspired.  Yes, I get inspiration in the shower.  So here are a few of my reflections on the last 3 years.  Why did no one tell me about this?
1.  You're probably not going to sleep when your baby sleeps.  And even if you do sleep, you still jump up at every little sound thinking your baby is up.  And why sleep when there are a million things to do around the house.
2.  Breastfeeding can suck.  You had visions of gently cradling your baby's head as he or she was nursing but what you actually experienced was cracked nipples, letdowns in the grocery store when you hear babies cry and guilt when you decided to use formula.
3.  You will be your own worst critic. Don't be so hard on yourself if the house isn't clean.  Ask for help and get out of the house when you can.
4.  The pain of childbirth will be quickly forgotten and be replaced by love you never thought your heart was capable of.
5.  Your boobs might let down during sex and leak.  Hopefully your husband won't mind.
6.  A smile from your baby, a hug from your toddler, or the words "I love you" will give you the courage to face another day.
7.  Poo, pee and spit-up will be your perfume not of choice.
8.  Your closet or bathroom will be your oasis as you try to catch a break and catch up with your friends on Facebook.  Just don't drop your phone in the toilet.
9.  You will scream and jump for joy the first time your toddler goes potty.
10.  Take a mental snapshot of when you've had a good day.  You will need to remember them when the going gets rough.
So what is something about motherhood your girlfriends, mother, sister never told you about and you had to learn on your own?